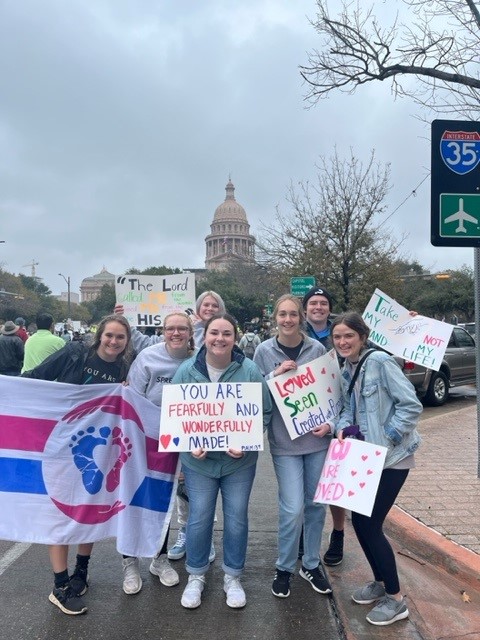 Amber Reiner, President of Tornados 4 Life at Concordia University Texas
On January 28th, Tornados 4 Life attended the 2023 Texas Rally For Life at the Texas State Capitol. One thing that I really love about being a part of the Pro-Life Movement is how it brings people of all different backgrounds together. This rally was such a great example of the Pro-Life movement and also an example of being gospel-motivated in everything we are fighting for. I was blown away by the amount of grace and love that was shown by those marching, as well as the speakers at the rally. Each of the eight speakers brought everything they said back to Jesus and the power of His grace and love for us. In this scary world filled with sin and death, it is so refreshing to experience the beautiful message of love and life for everyone of all ages and backgrounds. 
My favorite speaker was Ryan Bomberger, founder of The Radiance Foundation. Ryan talked about his story of being adopted by a Christian family and loved even though he was the result of a rape. Even though he was conceived out of something so evil and terrible, his birth mother chose to give him life and a future. This was impactful for me to hear because when my mom was 18, she was raped and found herself pregnant. From the moment she found out she was pregnant, she knew this baby was not meant for her, but she also knew that the baby was made by God and had a purpose. That baby girl was born and adopted by a wonderful family, and now she is 29 years old, married, and has two babies of her own. God takes terrible situations and makes them beautiful again and again. I am so thankful for this opportunity to attend this rally and hear Ryan's story.