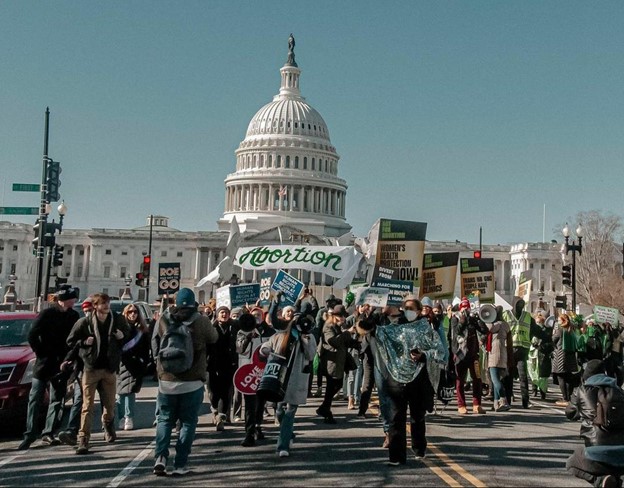 By Katie Reid
Being raised in the Lutheran church, I have always been taught prayer is important, both for our relationship with Christ and for the comfort of the Holy Spirit. However, it was not until January of this year that I understood how desperately prayer is needed for the benefit of others, especially as we promote a life-affirming culture.
            I had the amazing opportunity to attend the March for Life in Washington D.C. in January 2022. It was an uplifting day filled with inspiring speeches, seas of people peacefully advocating for life, and even some unexpected reunions. The next day, my friends and I were getting ready to tour the city when we got a text from our leaders encouraging us to meet them in front of the Supreme Court. A pro-choice group had started a flash-mob to "celebrate their right to an abortion" and they felt we needed to be there to ensure that our advocacy for life would be seen and heard by any press that were covering the event.
When we arrived at the scene, any expectations I had were immediately wiped away. The protestors were holding banners with "abortion" scrawled across them in a beautiful font and signs that portrayed doves carrying olive branches. While they had the typical shouting and dancing that you would expect from a flash-mob, they were also being led in prayers and hymns. They were praying to God, thanking him for abortion. They were singing the hymns of fugitive slaves and changing the lyrics to portray abortion as their freedom. I was confused and hurt to see God's name invoked to justify such an evil act, but these feelings were only amplified when I realized that this group was from a Lutheran (ELCA) church!
Upholding a culture of life can be disheartening, even painful at times, in our increasingly divided country. However, we know that God listens to our prayer, and He provides strength and comfort to us. Philippians 4:6-7 tells us: "Do not be anxious about anything, but in everything by prayer and supplication with thanksgiving let your requests be made known to God. And the peace of God, which surpasses all understanding, will guard your hearts and minds in Christ Jesus."
The overturning of Roe v. Wade has opened the path for a culture of peace and life in America; we cannot forget how many people have prayed for this day for 50 years. God has answered those prayers, and He has blessed all people through the prayers of His people. However, that victory does not mean we can stop praying. We must stand firm in our beliefs and find comfort in God's promise to hear and answer our prayers. We know that God is on the side of life, even when others may use his name for evil. Paul asks in Romans 8:31, "If God is for us, who can be against us?" The answer is clear: "neither death nor life, nor angels nor rulers, nor things present nor things to come, nor powers, nor height nor depth, nor anything else in all creation, will be able to separate us from the love of God in Christ Jesus our Lord" (Romans 8:38-39).