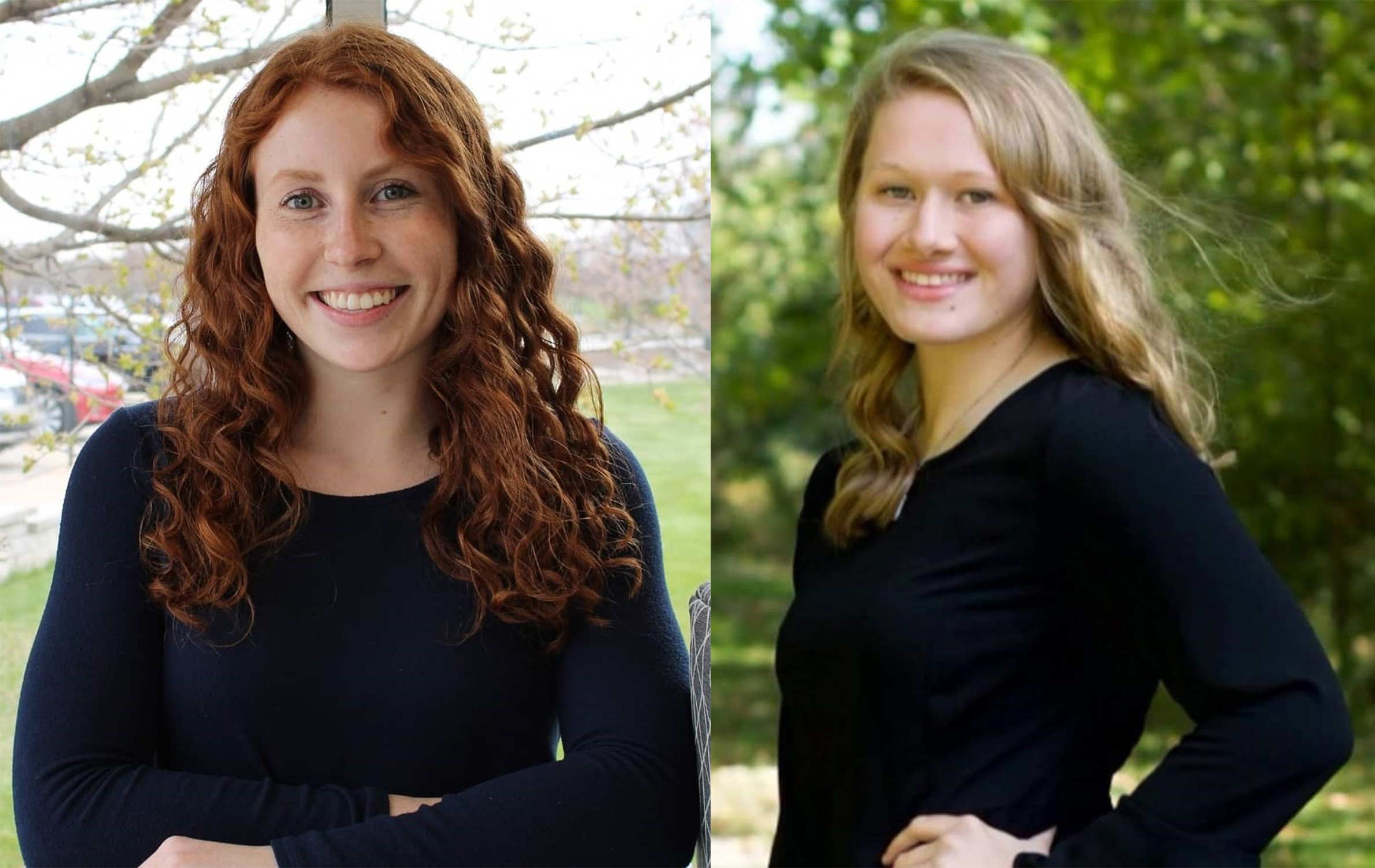 Y4Life is excited to announce that we're hiring TWO interns this summer! Thanks to generous donations and grant monies, Y4Life will be investing in the next generation of Leaders 4 Life this summer and moving forward with plans for serving more youth in the future. We hope you rejoice with us over this wonderful blessing!
Meet Bonnie Pool and Katie Reid, our 2021 Y4Life interns:
Bonnie is finishing up her junior year in the nursing program at Concordia University Wisconsin: "I grew up in St. Louis with five rough-and-tumble siblings, whom I love dearly. This past January, I married my husband Eric, and we moved into our first apartment in Cedarburg, Wisconsin! After graduation, I plan to work as a labor and delivery nurse and possibly attend seminary to become a deaconess. My 'dream job,' though, has always been to work for a pro-life organization. I joined CUW's Students for Life group right away as a freshman and have been one of the group's leaders for the past two years. Leading that group has deepened my passion for life issues and strengthened my desire to work in life ministry, which is why I am beyond thrilled to be one of Y4Life's summer interns! I cannot wait to work alongside so many Gospel-motivated voices For Life to testify to the God-given value of every person!"
Katie is from Indianapolis, Indiana. She is currently finishing up her freshman year at Hillsdale College, where she is a member of Hillsdale College for Life and the Scott Klusendorf Fellowship, a program run through Protect Life Michigan. Katie has had a passion for pro-life work since her freshman year at Lutheran High School of Indianapolis, where she was a founding member of Saints 4 Life in her senior year. She is very excited for this chance to work with Lutherans For Life and learn how to best spread the love of Christ and share about the sanctity of human life with a gospel-motivated focus.
---
Can you tell us a little about your family and where you grew up?
Bonnie: I got married in January, so right now I am 50% of our family of two! My husband Eric graduated from CUW this past December and works as a software engineer for a competitive intelligence company. We're living in Cedarburg, Wisconsin, while I finish up school. I grew up in St. Louis, Missouri, with five siblings, three of whom are grown, and one of whom is getting married this summer! My dad works at the seminary in St. Louis, and my mom is loving getting to homeschool my two younger sisters.
Katie: I'm the youngest in my family with two older brothers. My family moved several times growing up, so I consider my home to be wherever my family is. We have been in Indianapolis since I was 12, which is where most of my family is currently working, but I'm currently attending Hillsdale College in southern Michigan.
What degree are you working toward in college?
Bonnie: I am a senior at CUW working towards my Bachelor of Science in Nursing, with a view towards Labor and Delivery/Obstetrics.
Katie: I am a sophomore at Hillsdale College working towards a BA in English with a Computer Science minor.
What led you to want to be an intern for Y4Life?
Bonnie: When I saw that Y4Life was hiring an intern, I immediately combed through all of the requirements and paperwork to see if it would be a good fit. Since middle school, I have wanted to work for a pro-life non-profit, so this seemed like the perfect opportunity to see what it's really like! I also knew Michelle [Bauman] would be an amazing person to work under after getting to know her through leading the life team on Concordia Wisconsin's campus.
Katie: My pro-life journey began when Michelle and the Y4Life team helped my high school start a pro-life club with a gospel-motivated focus. While this helped me to understand the sanctity of life from a Christian perspective, my involvement in the pro-life clubs at Hillsdale College allowed me to further understand my values, specifically my view on abortion, from the logical and scientific perspectives. I developed passion for this movement that I'm hoping to pursue in my future career. I was excited to see this opportunity to work with Y4Life which would not only give me a glimpse of what a career as a gospel-motivated voice for Life would look like, but also the remote nature of the job allows me to live at home with my family for the summer.
What areas of life ministry are you most passionate about?
Bonnie: I am most passionate about the issue of abortion, because it is most prevalent for mothers in my age group. I know that some of the people I meet on campus and have class with may have some personal experience with unplanned pregnancy or will in the future, so I think it's really important that I be a strong advocate for the unborn in my setting. My passion for end-of-life issues has also increased in the last few years. A couple summers ago, I worked as a CNA at a nursing home and grew to truly love my residents there. That experience both made me realize how valuable and precious people are in their older age and opened my eyes to how badly they need advocates for fair treatment.
Katie: I would say that I am most passionate about the abortion issue, as most of my experiences in college with both Hillsdale College for Life and Protect Life Michigan have been centered on this issue. While I have a deeper knowledge about the arguments surrounding this issue and the tactics for how to discuss them, I am also very passionate about the issues of sex-trafficking, mental health, and the understanding of marriage throughout the United States. I'm hoping my work with Y4LIfe will open my eyes to the many other threats to life and how to best advocate against them.
Have you always had a passion to uphold life, or was there a specific instance that led you to be a Gospel-motivated voice For Life?
Bonnie: I was raised pro-life but didn't participate in much activism aside from the annual life-chain until college. The older I got and the more I considered the implications of my faith on the value of life, the more horrified I was by abortion. I remember watching some of the undercover videos from The Center for Medical Progress as a sophomore in high school and feeling like there really could not be more important work than fighting for the rights of these unborn babies. That was one time where I consciously thought, "This cause is something worth devoting a piece of my life to," and over time that conviction has just grown.
Katie: This might not be the most conventional answer, but it was the dystopian novel Unwind by Neal Schusterman that first introduced me to the horrors of abortion and how this connects to the overall sanctity of life. It's a thought-provoking novel about a potential future after a second civil war has erupted in the United States over the issues of abortion and the death penalty. The resolution of this conflict is that if a child between the ages of 13-18 is deemed unfit to contribute to society, their body is "unwound," and the parts are used for medical purposes. At times gruesome, it's brilliant in its discussion of what makes a person's life valuable and how the misunderstanding of this discussion can have grave consequences. I would highly recommend it to anyone who may not have much experience in life issues or really anyone who enjoys a good story.
Not everyone agrees that human life is sacred. How do you handle opposition to this truth when you encounter it, especially among your peers?
Bonnie: I try to be as gentle as I can while remaining firm in what I believe. I think asking questions is a good way to strike this balance. The other person cannot very well accuse me of being close-minded and hateful if I am calmly and kindly asking them to tell me why they believe what they do. If they feel heard, they are less likely to lash back quickly at me when I start to explain what I think. I also think these conversations happen best when you already have a relationship with the person with whom you're speaking. I wouldn't bring up life issues in my first conversation with someone if I know I have the chance to build a relationship with them over time.
Katie: A lot of times these extremely different views result from an informational echo chamber, so the other side simply hasn't fully heard our side or doesn't have a great understanding of it. One of the first things I try to get across in a discussion is that I am willing to hear their point of view and even have my mind changed if they're willing to do the same. The best way to counter the echo chambers of our age is open and honest discussion, and of course the compassion to walk alongside someone in a journey that could lead to faith.
Okay, now it's time for some favorites. What is your favorite …
Bible verse?
B: Job 19:26
K: Romans 12:2
Hobby?
B: Anything active, and baking. They balance each other out.
K: Reading, playing my flute, and hiking (or any activity that gives me time to think).
Food?
B: Any rich, chocolatey dessert
K: Potatoes in any form.
Podcast?
B: I am not really a big podcast person! I have tried to get into true crime podcasts before because it seems like a thing that every girl my age enjoys, but it's not for me. Issues, Etc. is what I put on for long car trips sometimes.
K: My friend recently introduced me to the Magnus Archives. I'm not usually one for horror but this one is really addictive.
Influencer?
B: I also don't follow a lot of influencers! But during COVID, I discovered this fitness account called Blogilates, and I think she's the absolute coolest. She has a ton of great workout videos and talks about what she bought at the grocery store that week through the whole video to distract you from the pain.
K: Sadly, I've fallen victim to the Tiktok trap, so I enjoy anyone who can keep my attention. I watch mostly comedy and book recommendation videos (too many book recommendations and not enough time!).
Music?
B: I like a huge variety! Favorite artists are Vampire Weekend, Sufjan Stevens, and Novo Amor.
K: I also listen to a wide variety, but recently I've been listening to a lot of modern rock like Hozier or Arctic Monkeys.
Show on Netflix?
B: Great British Baking Show! It is the most wholesome content.
K: I recently watched Avatar: The Last Airbender for the first time, and I'm obsessed!
God has certainly blessed Y4Life with the gift of these two interns, and I'm looking forward to seeing what we can accomplish this summer. Be on the lookout for more news from both of them soon!