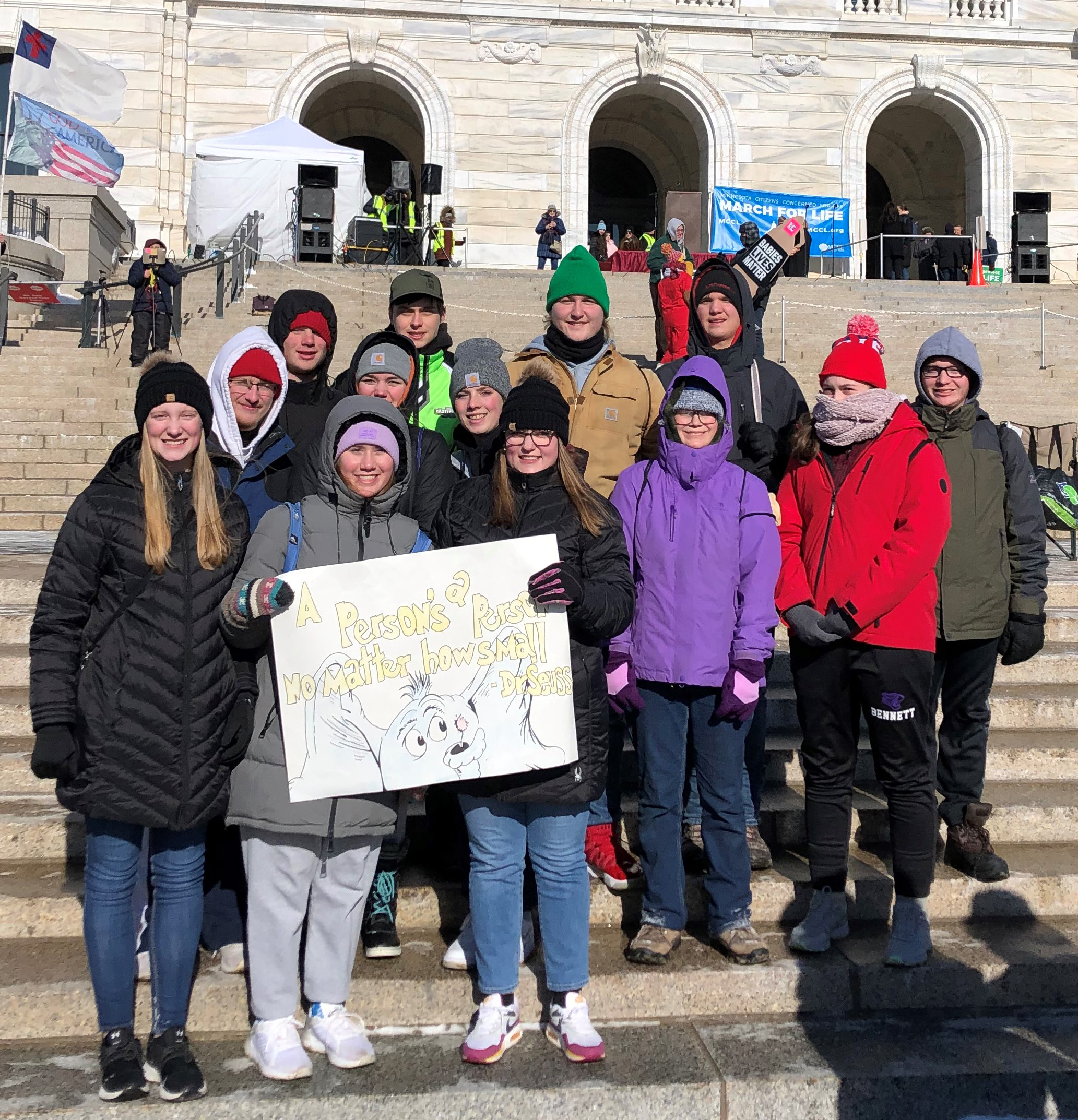 by Kambria Steinhaus, a member of Knights 4 Life
Martin Luther High School in Northrop, Minnesota, has a Y4Life chapter, the youth branch of Lutherans For Life. In this group, we strive to learn about different life issues and how we can address them. Life issues extend beyond the infamous issue of abortion. They also include homelessness, human trafficking, marriage, abstinence, self-harm, suicide, pornography, family, contraception, end-of-life care, homosexuality, transgenderism, and so much more. A recent project that our group took part in was packing about 70 kits for the homeless, which we gave to the Salvation Army in Mankato to distribute. There is so much information about life issues being tossed around, whether true or false. We seek to sort out fact from fiction and learn to respect the other side without compromising the truth.
LFL and Y4Life's theme this year is "God Chose You," based on John 15:16: "You did not choose me, but I chose you and appointed you that you should go and bear fruit." God has chosen each one of us from the beginning of creation. God has also chosen our body to be a temple. He gave us the beautiful gift of a body, and we are called to be stewards of that body, to take care of it and be aware of what we do with it. God also chooses each one of us to belong. We all have a spot and purpose in God's family—and not one of us is useless or random. God chose us with a purpose. Nothing He does is random. He is intelligent, caring, and purposeful. He knows you, and He knows your talents. God chose us with forgiveness. No one is perfect. We all do bad things, and we all have insecurities. God knows who He is choosing, and He knows that we are not perfect. God chose us for life in Christ. God does not want anyone to go to hell. He forgives, and He wants you to be part of His family. God chose you for Life together. God does not want anyone to be alone. Humans need other humans to love. God gives us marriage, children, and friends to create the beautiful gift of family. We can create strong bonds and love between people.
Today, we often find lines, divisions, and hate, but we hope to spread a little love and hope. Life is a valuable gift at all ages and all stages of life, and it should be protected.