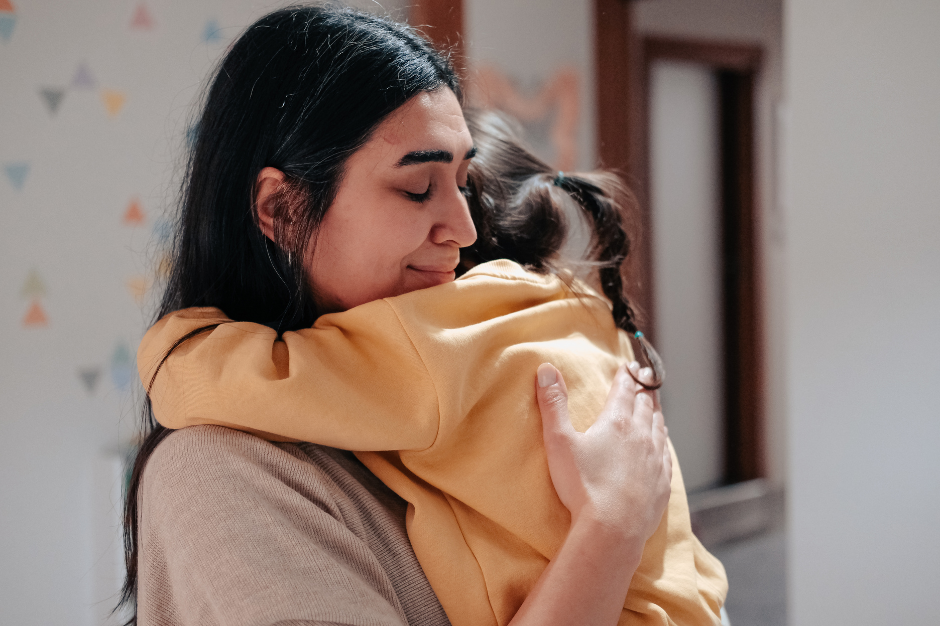 Kate Roberts
I'll never forget the day that my brother arrived. It was a random Saturday in August. My dad, a pastor, was off doing a wedding, and my siblings and mom and I had settled in for a popcorn and movie night.
The phone rang. It was the Department of Children's Services calling to see if we could take in a two-year-old boy who otherwise would have to sleep in the DCS office that Saturday night. My parents had recently been certified as foster parents, and we were all anxious for our first "placement." (I use quotes because when we say "placement" and "case", we need to always remember that we are talking about babies and kids and teens, human beings and children of God.)
My mom tried to call my dad to get his thoughts, but he was busy with the wedding. So she made an executive decision. When Dad arrived home, we had another child in the family.
The thing is, we didn't know for years if he was really staying; the primary goal of foster care is reunification with the child's biological parents. And though reunification isn't always possible, many times that goal is met. According to the Annie E. Casey Foundation, in 2020 just under 50% of children in foster care were reunified with their biological parents.
The intent of the foster care system is for children to be in care for less than 18-22 months, although it varies state by state.
We adopted my brother after more than four years of uncertainty, court dates, and prayers.
When we finally arrived at the courthouse, his adoption day was a joyous celebration of the newest official member of our family, and it happened just a few months after we celebrated his Baptism. The court declared him a legal member of our family, affirming what we already knew to be true: he was my brother and my parents' son.
It was certainly a joy-filled day, yet adoption can be just as heavy as it is joyous. Adoption is God's redemptive response to something that is broken. If the world we lived in wasn't broken, we would have no need for foster care or adoption.
The termination of parental rights that takes place before an adoption can occur is devastating. It legally separates children from their biological parents for life. One judge explained it as the juvenile court equivalent of the death sentence, pronouncing a permanent separation between parent and child.
"The foster care system is broken" is a statement made frequently, both from people involved in the system and those who are outside observers. Of course, the foster care system is broken! God designed families to be made up of a biological mother, a biological father, and a child. So when that design is disrupted, it is only natural that there are consequences to that disruption. There is no way to make a perfect system that replaces the biological family unit that children need.
But living in a broken world with a broken system does not mean that there are not ways to make changes that provide hope and healing to children within the foster care system.
We may be devastated when court dates get moved and our hopes and dreams for our precious charges are crushed once again. We may come to the conclusion that the system is broken after years of toiling within it, despite the underpaid, overworked people who chose that career path in the first place because they care.
But lying in bed with a little boy sobbing from the deepest part of his soul because he's been ripped away from everything he's ever known…
Having the privilege to cry with him and comfort him then, and many, many nights after . . .
Holding him and praying fiercely for him…
Helping a child of God navigate his new reality, a reality he didn't ask for and probably doesn't want…
Bringing a child to the holy waters of Baptism and teaching him the faith…
These are some of our highest callings as Christian foster families. Never mind the minor annoyances of the system. Despite its brokenness.
As Christians, God calls us to "care for the orphans and widows in their affliction" (James 1:27).
Adoption can be devastating, but it is also life-giving. It reminds us of our adoption as sons and daughters through our baptisms that we too may walk in the newness of life (Romans 6:4).
According to the Archibald Project, there are over 100,000 children waiting to be adopted out of foster care in the United States, with around 435,000 children in the foster system at any given time. If less than 1% of able-bodied households in the United States were licensed foster parents, there would be a surplus of foster homes. Even though the system is broken, studies show that that a stable foster home can have up to a 63% decrease in the risk of a child developing behavioral problems.
So what can we do about the foster care system as Gospel-motivated voices for life?
First and foremost and always, we can pray. We can pray for the children whose lives have been disrupted and may be disrupted again at any given point. We can pray for their biological parents, for caseworkers who work countless hours, for lawyers, for the impact that being taken into care has on siblings. We can pray for foster and adoptive families, that they may have wisdom and strength. We can pray for the organizations and churches that rally around biological parents, foster children, and foster/adoptive families.
Second, we can support and uplift foster children and their foster families. "Foster child" does not define or assign value to a human. Encouraging children in care that they are valued and loved, and that their circumstances do not define their worth is vital. Supporting foster families whether spiritually, emotionally, physically, or financially makes their job a lot easier when they have a network and community of people behind them cheering them on.
Third, reaching out to local foster parent associations and finding out what the needs of your community are can be a great way to serve foster children and their families. For example, my church yearly collects backpacks and fills them with school supplies for children in foster care so that they can start off each school year set up for success with the right tools they need for their classes. Groups can also organize things like care packages for foster teens or for foster families, or collect toys and clothing for Christmas presents.
I can tell you firsthand how special these gifts made my brother feel. These gifts let foster children know that there is a community of believers rallying around them, who love and care for them, who uphold them in prayer.
As Gospel-motivated voices for life, we can acknowledge that we live in a broken world and thus a broken foster system exists, but even more importantly we know and confess that there is hope in Christ. We know and confess that the call to us as Christians is to speak up for those who cannot speak for themselves (Proverbs 31:8) and by supporting foster children and families, we answer God's command to love one another as Christ loved us.