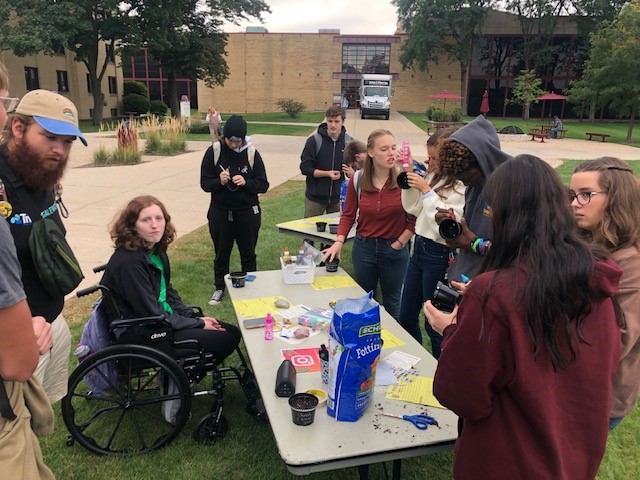 Olivia Hitz, CUC4Life
Even though our semester starts in August, we've noticed that things on campus tend to start amping up in September. Classes get more hectic, professors start expecting more from us, new students find their friend groups, and everyone begins to settle into their routines. With all of this going on, it can be hard to remember to step back and take care of your mental health- everything else seems to be more important!
In an effort to address mental health and begin building relationships, CUC4Life decided to host our DIY Plants and Prayer event. We gathered outside in the middle of campus on a beautiful mid-September day and offered students a chance to take a break from their busy schedules to plant some marigold seeds. Before they filled up their pot with soil and planted their seeds, students wrote short prayers and Bible verses about their mental health on the outside of the pot.
Tending plants and nurturing life has been shown to have a positive impact on mental health, but we know that God's work in our lives is even more powerful! We hope that as students remember to water and care for their plant, they will also be reminded to pray for their mental health and for the mental health of others. God gives us many amazing earthly means to care for each other and our mental wellbeing; yet, we know that healing happens because He is at work through His gifts to us. When we come to God in prayer, He hears us and does not forsake us. He nurtures us when we struggle with mental health, providing us joy, gladness, and peace.
Isaiah 51:3 says, "For the Lord comforts Zion; he comforts all her waste places and makes her wilderness like Eden, her desert like the garden of the Lord; joy and gladness will be found in her, thanksgiving and the voice of song."
God builds life within us. No matter how broken and shattered we kneel before Him, He renews our strength, drowns the old Adam within us through the waters of baptism, and speaks new life into us through His word. Our hearts turn from a blacked wasteland destroyed by the fire of our sins into a beautiful garden overflowing with peace, love, and joy!
We are so thankful that CUC4Life was able to reach approximately forty people with this event and were especially honored to share with them the peace that we have in Christ.